Regular price
Sale price
$19.99 USD
Unit price
per
Sale
Share
DOWNLOADABLE CONTENT ONLY

BRICKS AND OTHER SUPPLIES SOLD SEPARATELY
ALL SALES ARE FINAL
*Buy purchasing this product your are agreeing to our Terms & Conditions.  
CLICK HERE to download the Parts List  + How to Get the Parts

 

Tutorial
*Bricks for this build may only be available through Webrick.com. 
Other Supplies:
- Shootin' Rubber Bands
- Small Mechanism Rubber bands
- Firing string - Braided Fishing Line
Instructions include:
- Full model
- Magazine
- Bullets 
Deagle Ice by Snyzer Tech features:
- A fully functional bolt action mechanism
- Bullets that can be fired
- Fully functional slide
- 11 round removable magazine
- Magazine release button
- Working slide lock 
- Iron sights
- Easy to change rubber bands
Disclaimer:
Download on PC or Laptop.  May not work on tablet or smartphone.
Any questions visit our FAQ page 
Warning: 
ADULT SUPERVISION REQUIRED.
This model is not suited for children under the age of 12.  
This model shoots plastic pieces and should never be aimed at people or in any direction of any people.  Be sure to use eye protection when operating.  
Parts of this instruction recommends the use of cyanoacrylate glue, but is not required. Avoid contact with eyes and skin.
View full details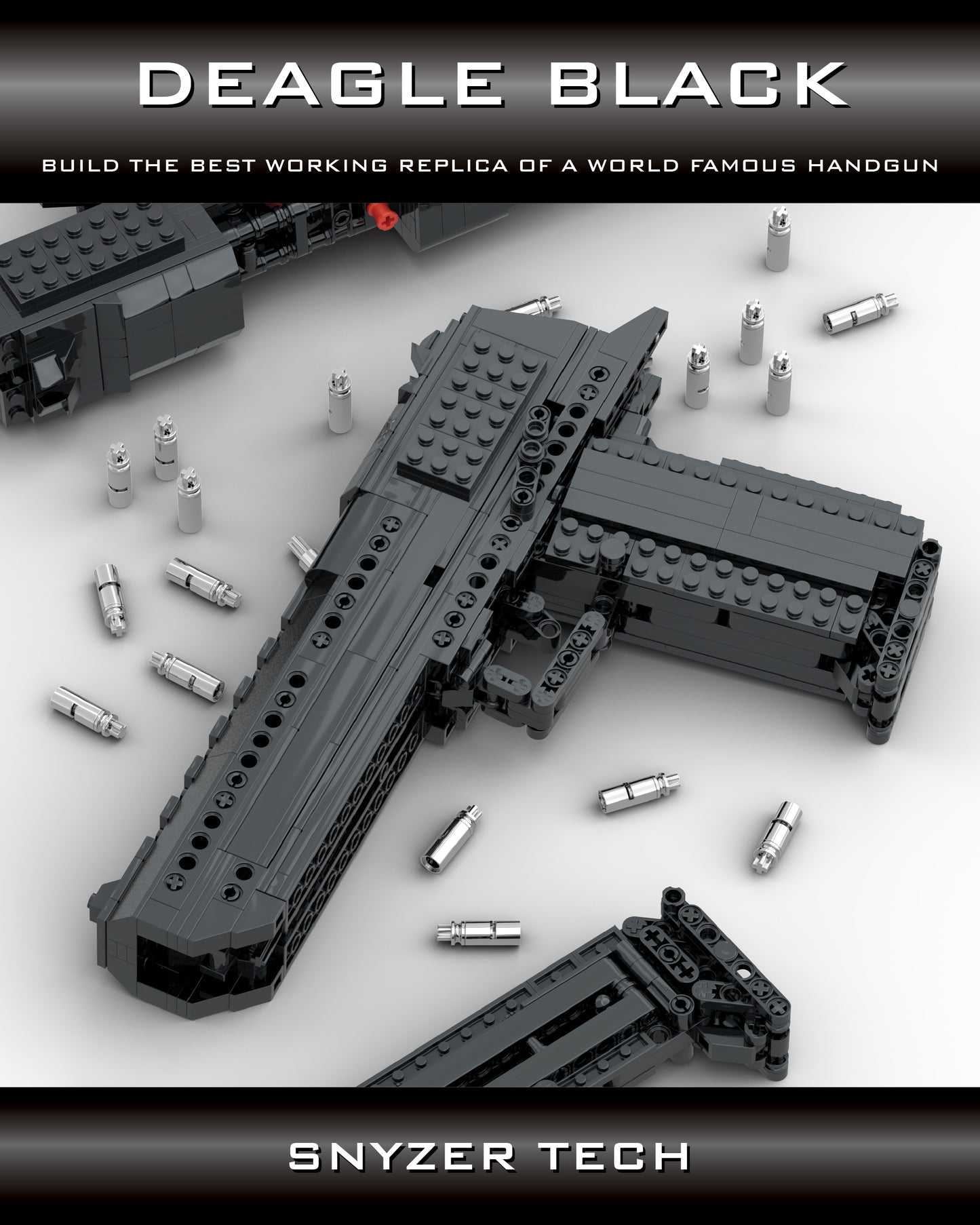 j'ai payé
pourquoi j'ai payé sa ma retiré 13 euro et pa 20 euro j'ai fait annuler la commande parceque il y a vais des bug
I don't need book without toy. But I can't buy this toy anywhere.
Suggestion
I think your work is of great quality and you deserve to be paid for it but I find that paying for the instructions is a bit useless and to make it more accessible you should sell a more expensive kit to have all the pieces in the right color... which I think is cooler and also in the spirit of lego.
Sincerely TheNoob
sendowl
dont try to download the file on your phone or you will lose the file and not be able to download it again. dont make my mistake.
Yes, as mentioned in the download email, we recommend downloading it on either a laptop or desktop computer.
If you have any problems, please contact help@snyzertech.com, with your order number and we will be happy to assist you.
Deagle Black by Snyzer Tech (PDF BOOK ONLY)