Regular price
Sale price
$29.99 USD
Unit price
per
Sale
Share
DOWNLOADABLE CONTENT ONLY
BRICKS AND OTHER SUPPLIES SOLD SEPARATELY
ALL SALES ARE FINAL
*Buy purchasing this product your are agreeing to our Terms & Conditions.  
CLICK HERE to download the Parts List  + How to Get the Parts Tutorial
*Bricks for this build may only be available through Webrick.com.


Other Supplies:
- Shootin' Rubber Bands
- Small Mechanism Rubber bands

Instructions include:
- Full model
- 5x shells
- 5x of slug shot ammo
- 5x of buck shot ammo
- 5x of bird shot ammo
CG12 Raptor [Black] by Snyzer Tech features:
- Universal shells for slug, buck and bird shot
- Functioning pump action shell ejection
- Working button safety switch
- Working bolt lock 
- Foldable/detachable stock
- Iron sights
Disclaimer:
Download on PC or Laptop.  May not work on tablet or smartphone.
Any questions visit our FAQ page 
Warning: 
ADULT SUPERVISION REQUIRED.
This model is not suited for children under the age of 12.  
This model shoots plastic pieces and should never be aimed at people or in any direction of any people.  Be sure to use eye protection when operating.  
Parts of this instruction recommends the use of cyanoacrylate glue, but is not required. Avoid contact with eyes and skin.
View full details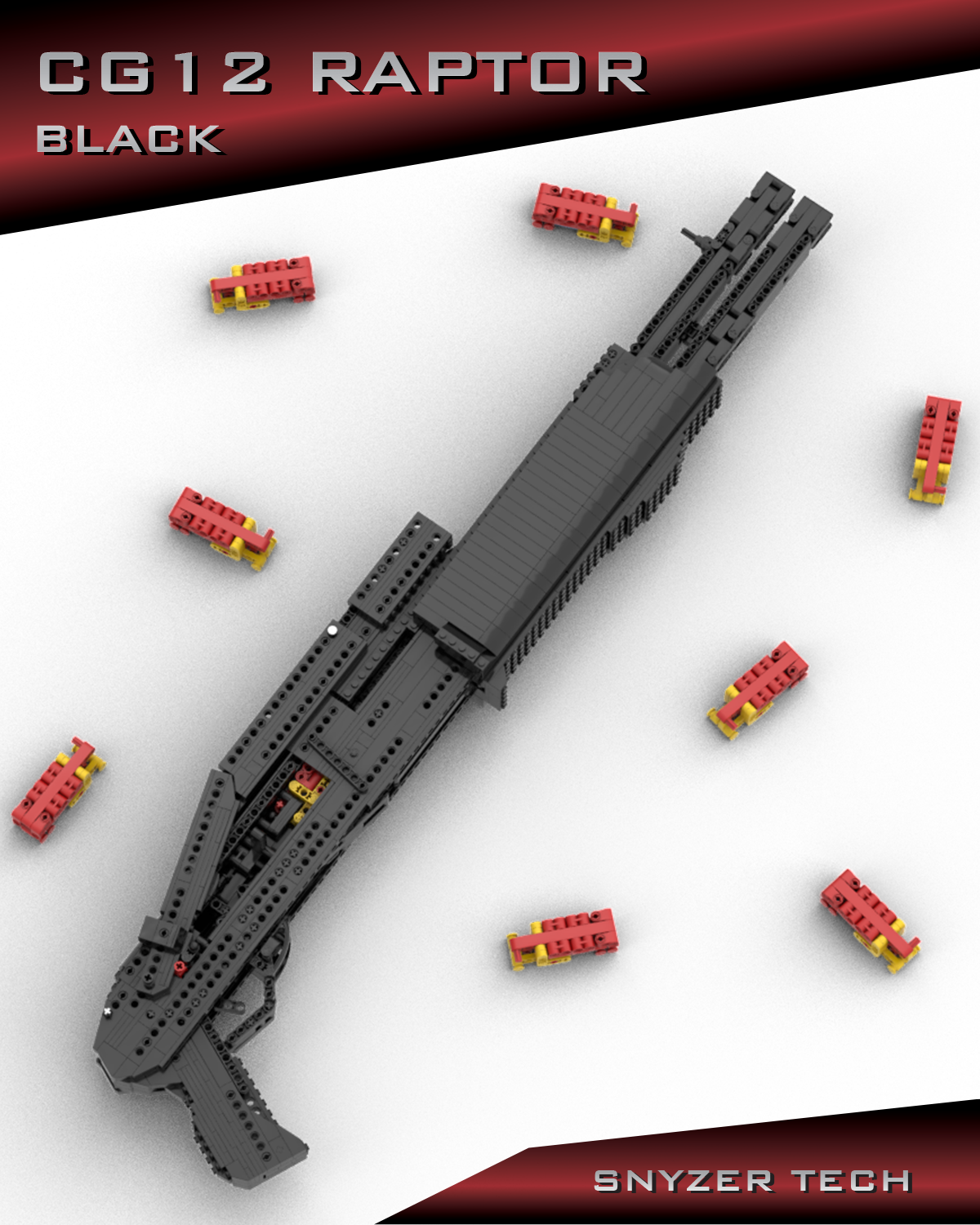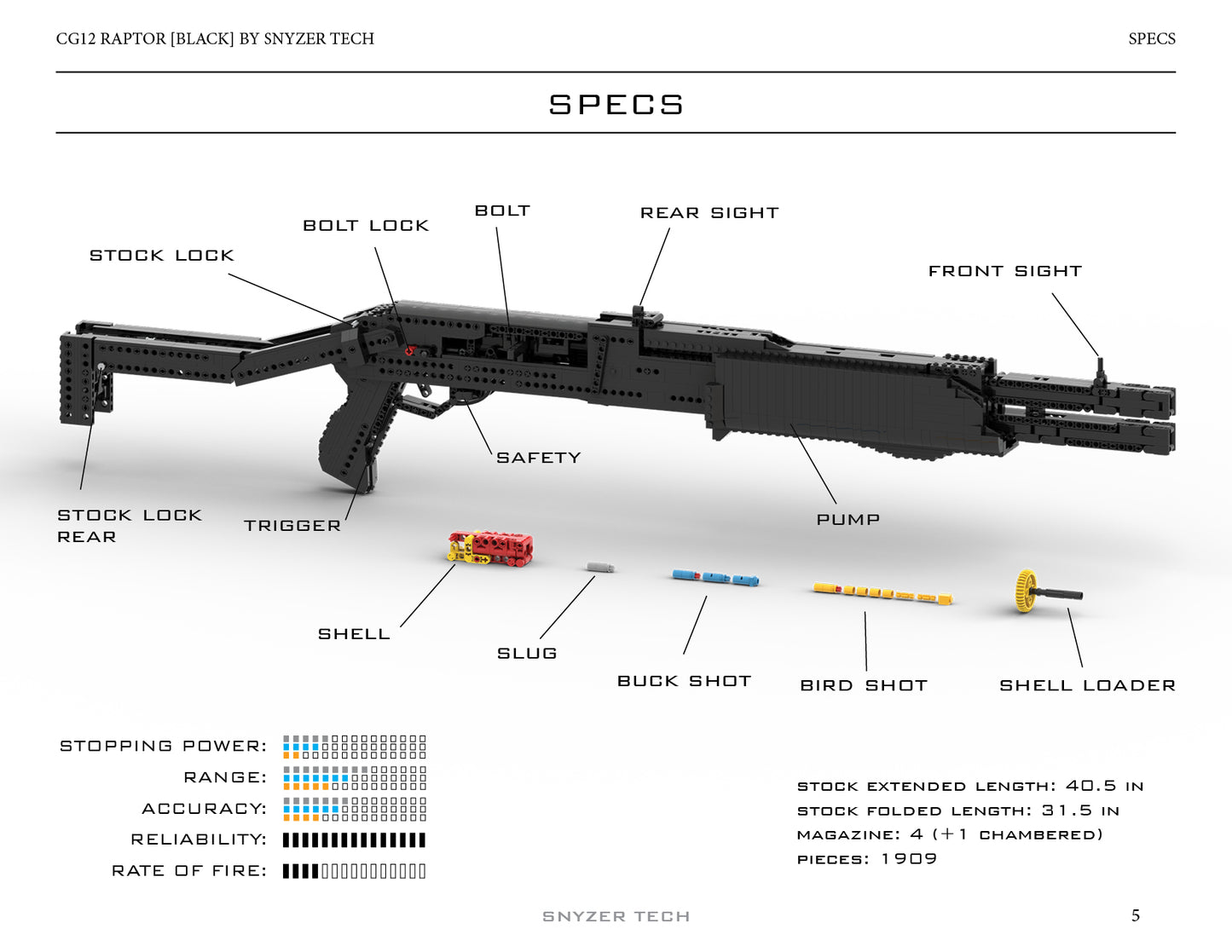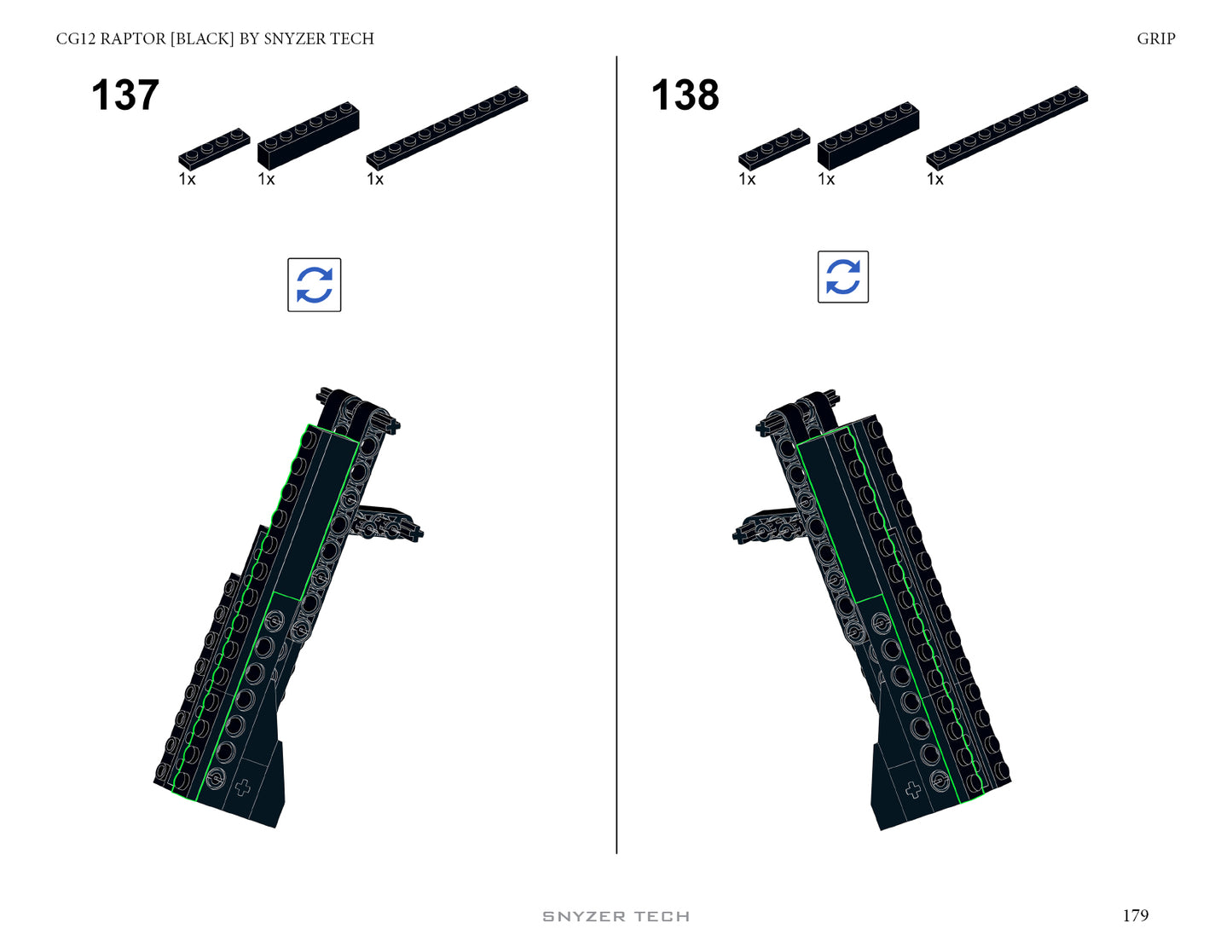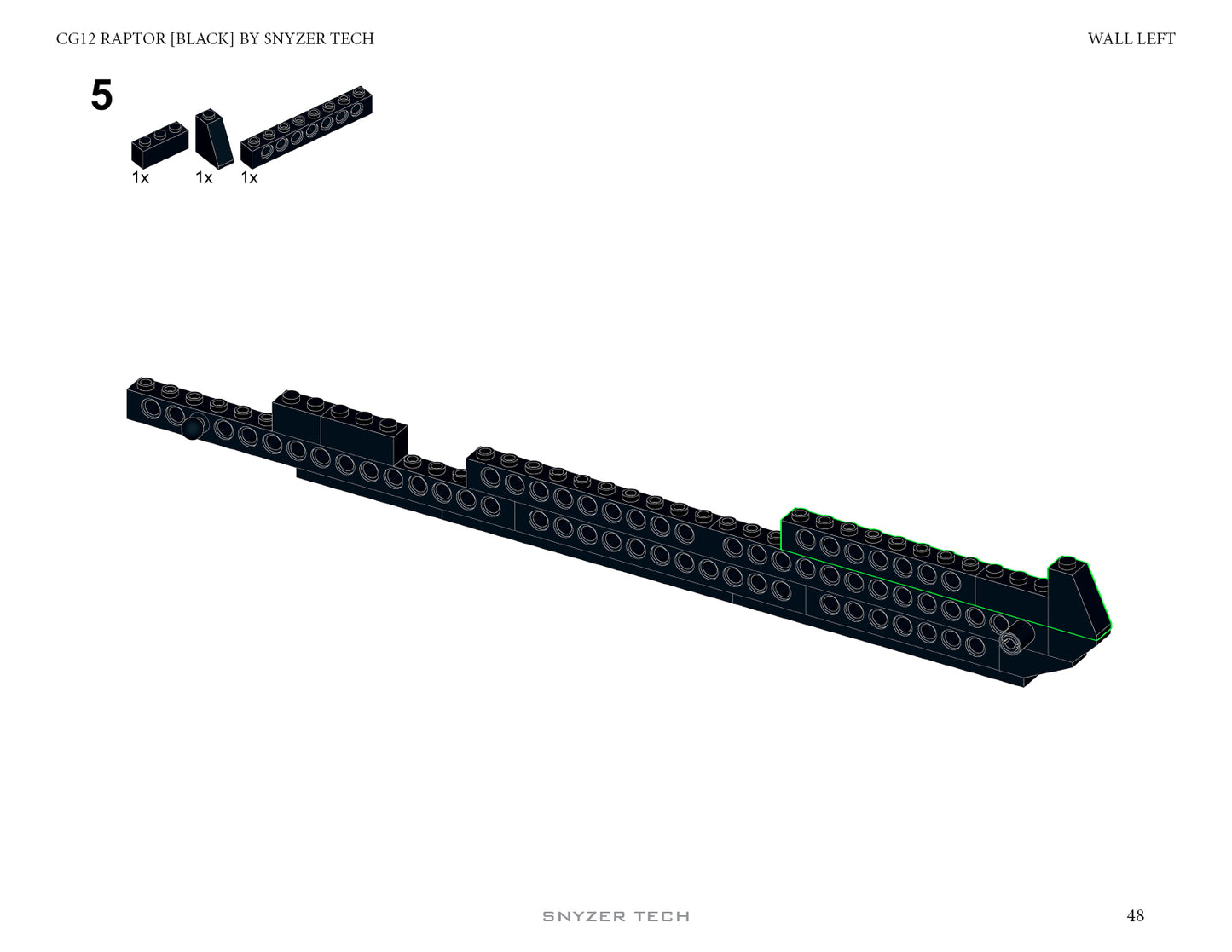 very nice
the building experience was fun and the shell ejecting works. the only problem i have is that the gun doesnt shoot with the right wall on
Sorry to hear you are having trouble with the build. Please reach out to help@snyzertech.com and we will be happy to help.
Cool build
Very cool but building it was horrendous due to the lack of numbered lengths for pieces without visible studs (axels, flat plates, etc)
Thank you for this feedback. We will implement these guides to the instructions to improve the building experience.
CG12 Raptor [Black] By Snyzer Tech (PDF BOOK ONLY )
CG12 Raptor [Black] By Snyzer Tech (PDF BOOK ONLY )
good design with some flaws in the instructions
With the parts list provided you aren't able to finish the build, I had to order another like 8 parts to complete it. There are also a handful of mistakes within the instruction booklet. Sometimes parts are placed that aren't mentioned in the parts bubble or parts should be placed on a spot where they can't be placed. The action of the gun is very smooth, but I wish there were alternate sources for the rubber bands, because buying the recommended ones from Snyzer would cost close to 35$ with shipping to Europe. I can recommend the white 2x2 lego rubber bands (70902) as a replacement for the mechanical rubber bands, I am still searching for a good shooting rubber band alternative.